West Yorkshire Kart Racer Charlie Watson is gearing up for his 2008 Junior Max season having had a major sponsorship deal confirmed with Ice Valley Water. The Shepley Spring based Mineral Water Company usually known for supporting Motorsport on two wheels has chosen to extend its sponsorship portfolio after watching Charlie's progress in the last quarter of 2007.
In November 2007 Charlie joined Ilkley based Lucky Twos Racing aboard the latest Tony Kart EVXX and a dramatic improvement was seen immediately in his performance in the Junior Max class at Wombwell and PF International.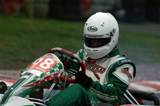 Team Manager Matt Rooley said 'I was really pleased to bring Charlie to the team, I had been watching him during his first season racing and felt that we could work well together. In the last few races of 2007 with my team his prospects looked bright, he really took to the new Kart. The Ice Valley collaboration is a fundamental boost to Charlie's 2008 challenge. It's also fantastic to see that there are companies out there that recognise the benefits of supporting British Karting talent and are willing to help them achieve success in the future. Fitness is so important in Karting and so a product that promotes a healthy lifestyle really compliments the modern day sport'.

Following the confirmation 15 year old Charlie said 'The deal with Ice Valley will really help me go into my SYKC & TVKC campaigns with the very best of support, I can't wait to get started and hope to reward everyone that has helped put this package together with excellent results'.

More information about Ice Valley can be found at www.shepleyspring.co.uk. Anyone wishing to provide further support to Charlie Watson or for more information about joining Lucky Twos Racing Team should contact Matt Rooley on 07976 350089.
Note: SCARICA COMUNICATO